A crushing majority of UK Jews believe Labour leader Jeremy Corbyn is anti-Semitic and the party he leads fosters a profound hatred of Jews, according to a poll conducted by the Jewish Chronicle.  

The survey, undertaken by polling company Survation between August 12 and September 4, reveals 85.9% of British Jews regard the Labour leader as anti-Semitic, while just 8.3% believe he's not.  

This is a marked increase from a recent Survation poll among the general public, which found 39% said Mr. Corbyn was anti-Semitic.  

By way of comparison, among British Jews, only 1.7% believe Prime Minister Theresa May to be anti-Semitic, with 89.9% saying she's not. Just 6.1% say that Liberal Democrat leader Vince Cable's antisemitic.  

The poll also showed British Jews held an extremely low opinion of the hard-left Labour Party in general, with a telling 85.6% of those polled believing Labour suffered from "very high" levels of anti-Semitism.  

The polling figures emerged after a torrid summer for Labour, with the daily news cycle seemingly dominated by endless revelations of anti-Jewish sentiment being expressed by party members in general and Mr. Corbyn in particular.  

Such has been the weight of accusations that last month Mr. Corbyn tried to issue a blanket apology for Labour hatred of Jews.  

That apology came on the same day senior Jewish figures criticised Mr. Corbyn's response to Labour's problem, where he was accused of failing to apologise or admit his own role in the anti-Semitism crisis engulfing the party, calling it "meaningless."  

Meanwhile, the Campaign Against Antisemitism demands "Jeremy Corbyn must go" in the online petition. Entitled "For the many not the Jew", it urges Labour's lawmakers to act, noting that "only 52 Labour MPs [are needed] to propose a challenger or Labour MPs could propose a vote of no confidence or set up their own political party. We call on the Parliamentary Labour Party to take action."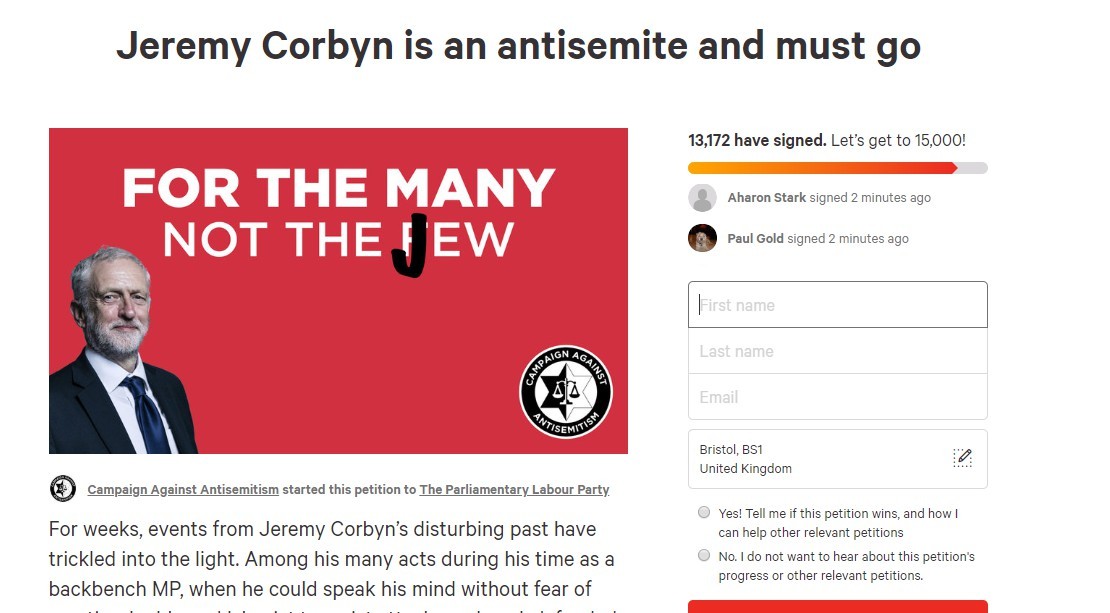 Last month Marie van der Zyl — the president of the Board of Deputies of British Jews — said the mounting allegations of systemic anti-Semitism in the Labour Party had left British Jews feeling isolated, "Every day you think it can't get any worse but every day it does. We're learning that he's spent more and more time with terrorists, with extremists."  

The UK Jewish leader said the community is "feeling nervous, we're feeling anxious, it's like Jeremy Corbyn has declared war on the Jews at home. We've never been in this situation, it's unprecedented."  

Describing his "cult" status among supporters, she said "his hatred of Israel and Zionism runs so deep, he can't separate that from anti-Semitism."

https://www.breitbart.com/jerusalem/2018/09/14/revealed-majority-85-of-british-jews-believe-jeremy-corbyn-is-anti-semitic/