During a recent interview with Breitbart Texas Editor-in-Chief Brandon Darby, Rio Grande Valley (RGV) Sector Chief Manuel Padilla, Jr. reported an increase in the arrest of MS-13 gang members well in excess of 200%. The chief explained this is a national security risk because these criminal gang members don't stay in South Texas, but rather, travel all across the US.  

"What we have here in the valley," Chief Padilla explained to Darby, "we have a unique dynamic where the traffic that's coming here, it's actually not staying here. I can tell you we're well over a 200% increase [in the apprehension of] MS-13 gang members."  

"The good news for the valley's that they don't remain here," he continued. "The bad news for the US is that they go to Houston and Maryland and other parts of the country to commit their atrocious criminal acts."  

Padilla told Darby that the MS-13 traffic isn't very visible except to the Border Patrol agents who work the line and to our partners that encounter it on a regular basis.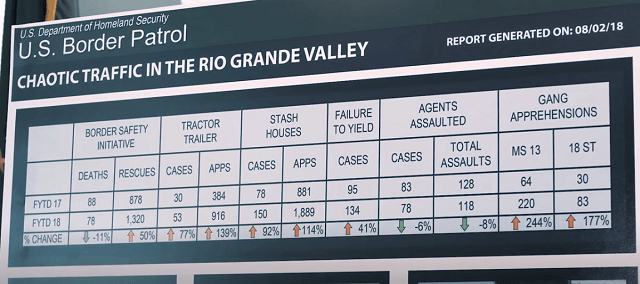 Chaotic Traffic in the Rio Grande Valley Chart: US Border Patrol/Rio Grande Valley Sector

The sector chief unveiled a chart he calls the "Chaotic Traffic in the Rio Grande Valley" chart that details the increased in the arrests of gang members in his sector.

RGV Sector agents arrested 64 MS-13 gang members and 30 18th Street gang members in Fiscal Year 2017, Padilla reported. With 2 months to go in Fiscal Year 2018 reporting, those numbers jumped to 220 and 83 respectively. This means an increase of 244% in the arrests of MS-13 gang members who illegally crossed the border in this sector and a 177% increase for 18th Street gang members.

"This type of traffic's always at a higher level when you have a border that needs personnel, technology and infrastructure," Chief Padilla stated."

RGV Sector agents arrested a MS-13 an MS-13 gang member in late July at the Falfurrias Border Patrol Checkpoint. Human smugglers stashed the gang member in the trailer of an 18-wheeler along with 24 other illegal aliens — including one unaccompanied minor, Breitbart Texas reported.

Agents arrested three other MS-13 gang members a week earlier in separate incidents along the Rio Grande River. RGV Sector agents arrested 2 more MS-13 gang members in South Texas. One, a Salvadoran national who served prison time in his home country for his involvement in a double homicide, was arrested at the Falfurrias Checkpoint, 80 miles from the Mexican border with Texas. The other was arrested near the border town of Los Ebanos.

https://www.breitbart.com/texas/2018/10/06/ms-13-gang-member-apprehensions-this-year-up-244-percent-says-border-patrol-sector-chief/