Just days after the awful events of Pittsburgh, disgusting neo-Nazi graffiti was found Thursday inside a Brooklyn synagogue.  

NYPD officials told Breaking911 that the suspect entered Brooklyn's Union Temple around 8:30 pm. Thursday night and used a black marker to deface 3 different locations with the messages, "die Jew rats we are here," "Jews better be ready," and "Hitler."  

But, in an interesting twist, according to Breaking911, surveillance footage released by authorities captured a photo of the suspect, "described as a male Black, approximately 20-years-old, 5'8″, 140 lbs, with black hair and last seen wearing a red suit jacket."  

And yesterday morning, the local CBS station confirms a man is in custody for the 'hate crime'.  

26-year-old James Polite, of Brooklyn, allegedly wrote the graffiti, according to police. The suspect also drew a picture of the Puerto Rican flag and wrote "Free PR"  

Additionally, sources tell CBS2, Polite could be behind a series of fires at other shuls(synagogue) and yeshivas(jewish collages/schools/seminaries) in the area. He was charged with criminal mischief, hate crime and making graffiti in connection to the messages scrawled at Union Temple.  

So not quite the white-supremacist, Trump-supporting, racist, bigot everyone was expecting?  

But, in an even more potentially shocking twist, it's possible that the alleged serial anti-semitic graffiti artist's a former Barack Obama volunteer and liberal media darling.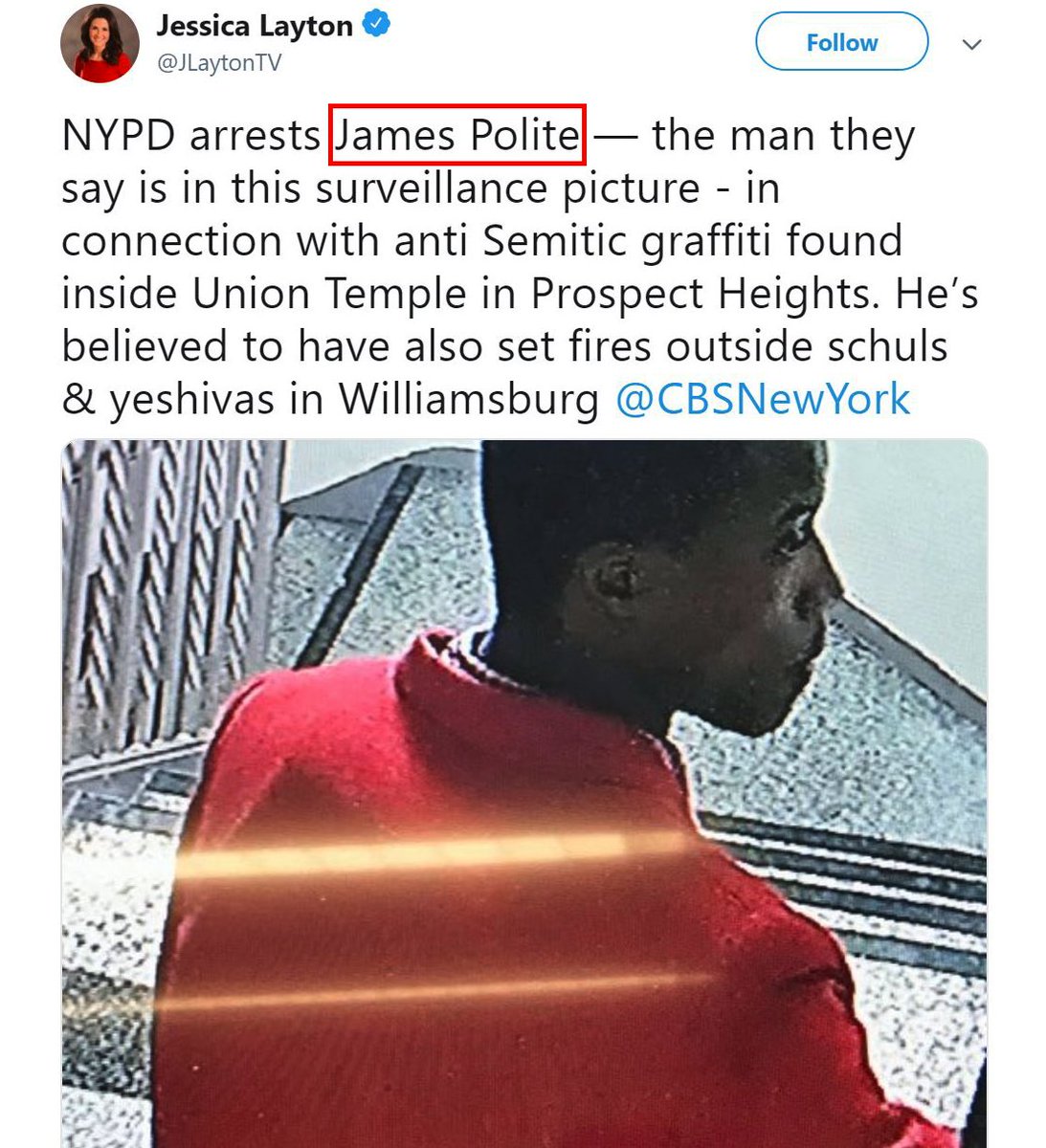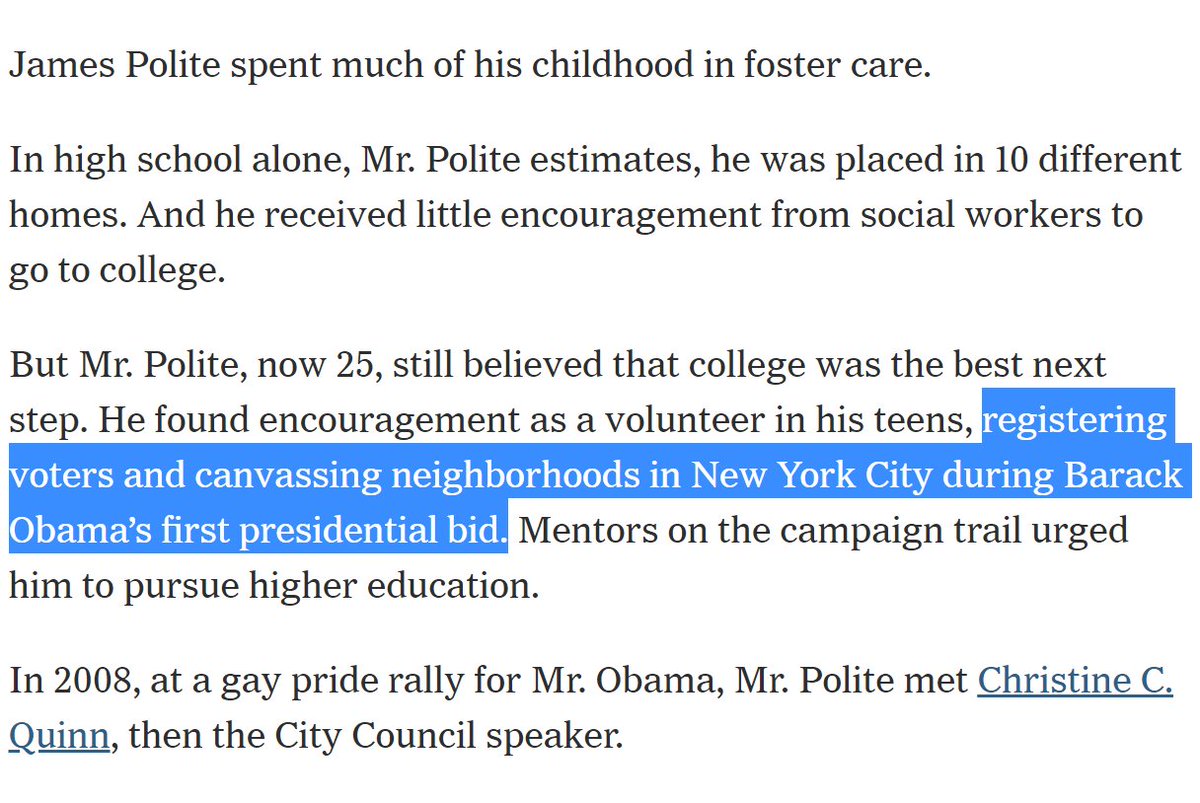 In 2017, The New York Times wrote a lavish lovefest of a story:

James Polite spent much of his childhood in foster care.

In high school alone, Mr. Polite estimates, he was placed in 10 different homes. And he received little encouragement from social workers to go to college.

But Mr. Polite, now 25, still believed that college was the best next step. He found encouragement as a volunteer in his teens, registering voters and canvassing neighborhoods in New York City during Barack Obama's first presidential bid.

Manhattan Democrat Christine Quinn still remembers their introduction on the steps of City Hall. "James was telling me his story," she recalled recently in an interview. "And I said, 'Do you have an internship?' And he said 'No.' And I said, 'Well, you do now.'"

"James was the adopted kid of the Quinn administration," she said. "And it wasn't just me. It was the entire City Council staff." 

Of course, there could be another 26-year-old (25 in 2017) black male, living in Manhattan with the same name as James Polite, but we suspect that is a little unlikely.

As The New York Times reports, towards the bottom of their puff-piece:

Despite the assistance, Mr. Polite struggled at Brandeis. Smoking marijuana, he said, became a coping mechanism to manage his stress. He had first tried the drug at a foster home in his early teens, but in college his habit grew to 3 times a day. He was placed on a health leave of absence in late 2015 and required to enter a rehabilitation program. During treatment, he learned he had bipolar disorder, for which he's now medicated.

More likely is the young man with a bright future, heralded by the liberal media and politicians as a success story waiting to happen, has seen his life take a much darker route. 



https://www.zerohedge.com/news/2018-11-03/was-anti-semitic-new-york-graffiti-attacker-liberal-media-darling-obama-volunteer